Shark Fishing in Mpande Area
Shark Angling in the Mpande area
By Dean Pretorius
Just south of port st Johns lays the rural community of Mpande. This area is a shark hunters dream destination as it is home to numerous quality deep water points where the many sharks species frequent .
These points are in close proximity to one another giving the angler chance to fish in most winds and sea conditions.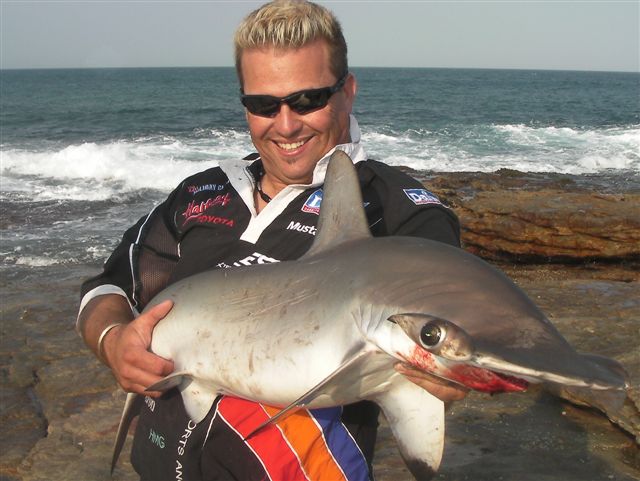 Mpande, Sharks Point , Rams Head, Sitonga and Ebulalou are some of the main points in the area, add these to legendary spots like Branzenhead which is just down the drag and you are giving yourself a good chance of getting that shark of a lifetime…..
What sharks can one expect?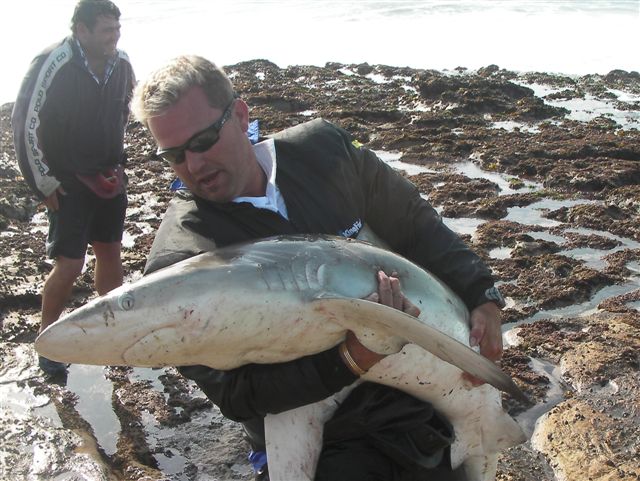 Most of South Africa's shallow water sharks are encountered here. Scalloped hammer heads, Dusky/ greysharks, bronze whalers, Zambezi's/ bull sharks , and ragged tooth sharks are the most common but tigers and other toothy critters have been encountered in this area…
What tackle do you need?
A good quality heavy outfit is essential – a heavy graphite rod , a good multiplier loaded with at least 400 m of 50 lb braid backing and topped up with 300 m of at least 0.55 mono-Leaders of at least 8m of 1mm mono are required. Traces should be made with at least 200 lb nylon coated wire – strong 9/0- 12/0 hooks are recommended .Sinkers of 8- 10 oz that can hold in really deep water are essential if you intend using the non return slide .A good rod bucket and a pair of gum boots are 2 other essentials one cannot do with out- slops and other so called rock shoes will not cut it on these points.
BAIT
Although at certain times of year the shad/ elf are around ,and they make excellent live or dead baits, I would suggest taking some other bait just in case the shad are scarce- baits like whole chokka,mackerel,sardines, bonito and yellowtail all produce goods results when slid whole or cut up and thrown as throw baits
Some advice and tips
Many of the points in this area can be treacherous in certain conditions- I cannot stress the importance of employing a local "gilly" to assist with your gear, landing fish and assessing the conditions- always watch the point you intend fishing for at 15 minutes before you commence angling – know the tides and always keep an eye of the water .
It is still required that one is in possession a valid angling permit and all bag limits and restrictions apply in this area.
Driving on unchartered roads and on the beach is prohibited and may result in stiff fines or worse.
Remember that no fish is ever worth a life so safety first under all circumstances .The mpande area is a jewel in the Transkei so enjoy it and hopefully you'll get stretched ……