Sharks Point is the ideal location for gully fishing and deep water rock and surf fishing for the more serious fisherman. The area at and around Sharks Point is ideal for youngsters to sharpen their skills in fishing by fishing the gullies for blacktail (dassie), karanteen (strepie), rockcod and many other. That is where the love of the sport starts and will be remembered by your kids for a long time to come.
Use John as your gillie or of you need another one then ask him to get someone reliable for you.
Fish must be measured in a straight line from the tip of the snout to the extreme end of the tail. The following rules are applicable to recreational fishing. Species that can be expected to be caught includes: (this is by no means an all inclusive list).
Species

Bag Limits/Closed Season

Garrick (Leervis)

Minimum size of 70cm and a bag limit of 2.

Kob (Kabbeljou)

Minimum size of 60cm and a bag limit of 1.

Shad (Elf)

Minimum size 40cm and a bag limit of 4.

Closed season is from 1 October to 30 November.

Bronze Bream (Bluefish)

Minimum size of 30cm and a bag limit of 2.

Yellowbelly Rockcod




Minimum size of 60cm and a bag limit of 1.

Spotted Grunter,

Minimum size of 40cm and a bag limit of 5.

Blacktail (dassie)

Minimum size of 20cm and a bag limit of 5.

Karrenteen (strepie)

Minimum size of 15cm and a bag limit of 10.
All of the above are on the permitted species list, please ensure that you adhere to the minimum size and bad limits as well as the closed season limitations. See Government regulations with regards to rules and regulations. Reference - Government Gazette of the Republic of South Africa Vol. 478, Pretoria, 6 April 2005, No. 27453.
The annual sardine run is around the South African winter months (June, July) and is also a great time for fishing as there are plenty shad and with that comes the bigger predators such as Cob and Garrick. These fish move up and down the entire coast, offering anglers some great fishing opportunities. Wild-life film producer Peter Lamberti has dubbed "The Greatest Shoal on Earth". See http://www.sardinerun.net/ for more detail.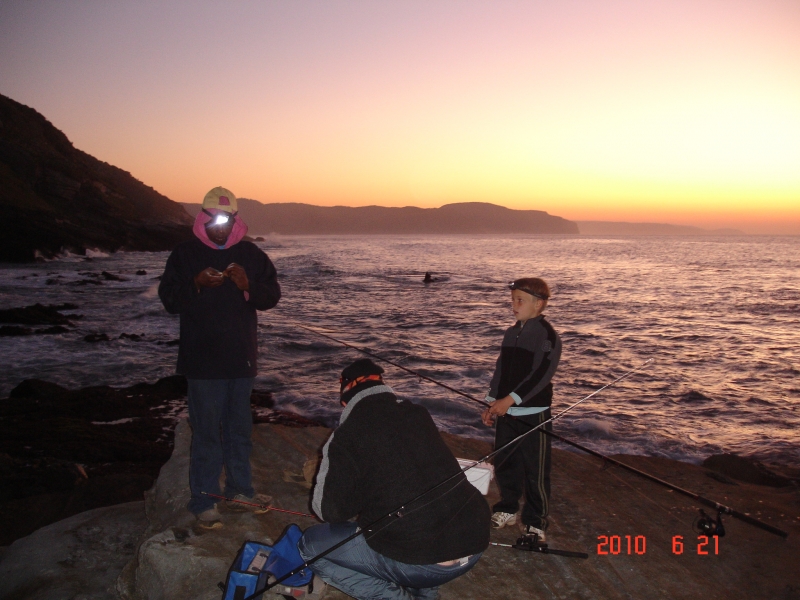 Early morning is a good time to get into some shad.
The furthest point of Sharks Point is a well know place to catch big sharks due to the depth of the water. Many sport fisherman visit to catch and release these apex predators of the ocean.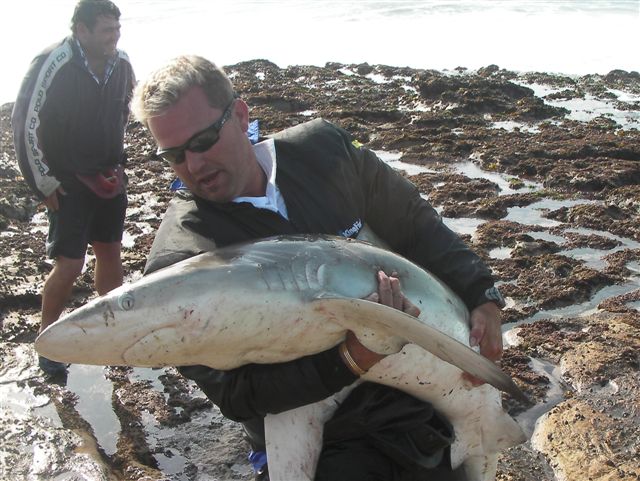 Brian from Hunterski with a nice kob caught at Sharks Point after a grueling mountain bike ride from Morgan Bay to Sharks Point.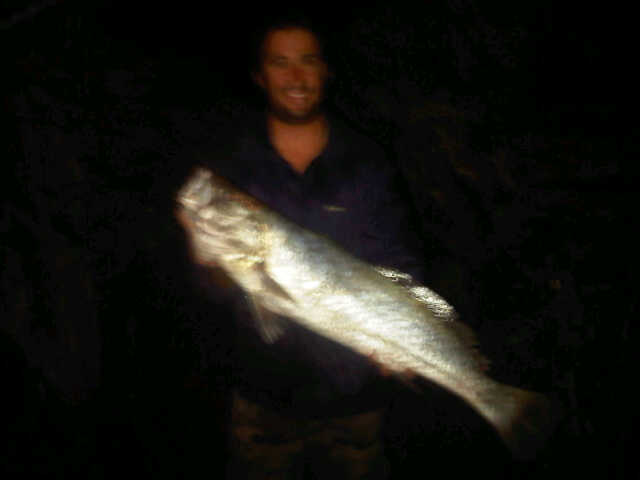 Ensure that you obtain a recreational fishing permit from any Post Office in South Africa. Officials might stop you from time to time and it is not worth the risk, and besides it is for a good cause and not expensive at all.
Recreational fishing licenses must be obtained for (this list is only for what you could require at or in the surrounds of Sharks Point):
Activity

Permit cost

Short term (4 weeks) cost

East Coast Rock Lobster

R87.00

-

Mollusks including octupus, squid,

worms, other invertebrates and aquatic plants

R87.00

R42.00

Mud Crab

R87.00

R50.00

Angling

R69.00

R45.00

Spearfishing

R87.00

R50.00

Use of a cast or throw net

R87.00

R50.00

Additional fee per vessel (only payable by the skipper) for recreational fishing from such a vessel where applicable

R87.00

R50.00
The above list is by no means all encompassing. Please refer to the Department of Agriculture, forestry and fisheries for detail rules and regulations. Also see Government Gazette 795 , 10 September 2010.
--------------------------------------------------------------------------